You are looking to replace your pyrotechnic actuators with shape memory alloy technology for your space applications ? We have the most advanced industry-proven solutions.
Spacecrafts require variety of mechanisms to accomplish the mission. The typical functions are deployment, articulation, positioning, displacement.
Pyrotechnic separation nuts, paraffin actuators and others devices are hazardous for the satellite, regarding shocks waves generation and potential risk of contamination.
Shape Memory Alloy ( SMA ) technology equipped with inner heating element, offers smooth and slow behavour, higher cleanliness result and good vibration & shock resistance.
Thermocoax addresses this new market with miniature and powerfull heating element, same components already demonstrated on propulsion and thermal management on board satellite.
Main applications are single one time used valve, Hold Down & Relieve Mechanism (HDRM), Pin Puller, deployment Hinge.
[showhide type="links" more_text="To receive the entire White paper on SMA application please click here" less_text="Hide"]
[/showhide]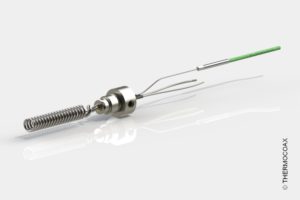 Heating coil