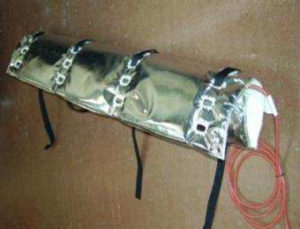 High voltage (HV) and ultra-high voltage UHV cables are very rigid.
The inner wires of the high voltage cables have strong mechanical tensions. It is very difficult to bend this cable.
Most of the time the cable is laid in a straight line underground. But it is sometimes necessary to bend the cable to follow a precise path, to make junctions or terminations.
The solution is to pre-heat the cables prior to bending.
The heat makes the inner wires and the complete cable more flexible. The operators can then bend the cable or start the connection.
Thermocoax, with its product range ISOPAD, provides flexible heating jackets that meet the requirements of manufacturers and installers of high voltage (HV) cables.
The challenge
The challenge is to provide flexible heating jackets based on heating cable technology with the following performance:
An efficient safety system to prevent any risk of overheating,
Strong, durable and easy-to-use fasteners
Heating jacket lengths up to 2 m
Sensors positioned so as to optimize the temperature control of the heating jacket
An electronic control system for up to three heaters mounted in parallel
The configuration of the heating jacket for high voltage (HV) cables
One contact temperature limiter at 100 °C for PTFE cable protection.
One heating wire temperature limiter at 230 °C.
Contact temperature sensor for the controller.
Pluggable heating jacket with strain relief system at jacket outlet.
An efficient fastening system
Belts with fasteners.
Strong fixation to support outdoor operation with high voltage (HV) cables.
Easy attachable and detachable belts
Quick fasteners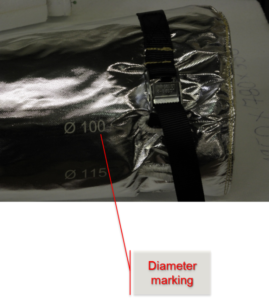 ISOPAD provides jackets that fit perfectly with various diameters of high voltage (HV) cables.
The diameter is clearly marked on the jacket.
A homogeneous and efficient heating solution
The performance of the ISOPAD electrical heating jacket has been validated by laboratory tests.
The temperature required for the bending operation of high voltage (HV) cables is around 85 °C.
The graph below shows temperature over time.
Measurements were made at different points of the cable structure using temperature sensors.
Sensors have been positioned on the surface of the jacket, on the surface of the cable and inside the HV high voltage cable.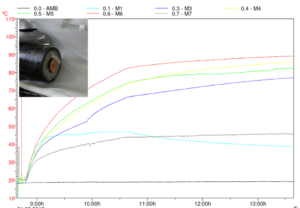 Special temperature regulation controller for three heaters in parallel
Flexible and mobile
IP65
SSR controlled
Optional metal case
Specifications – heating jacket for high voltage heating cables
Material: glass silk with aluminum coating on the outer surface
Area classification, ordinary area , non-hazardous, IP20
Electrical protection class: class I with metal sheath
Maximum withstand temperature (power off): 260 °C for the inside of the jacket – 100 °C for the outside because of the PE tapes.
 Heater Construction 
Type: Resistance heating cable
Material of insulation: PTFE
Material of outer sheath: glass silk with aluminum coating
Thickness of thermal insulation: 10 mm glass wool
Temperature Control 
Sensor type: two-wire PT100
Two temperature limiters: one at 100 °C for the PTFE cables and one at 230 °C for the heating wires
Technical Data 
Frequency 50-60 Hz
Maximum operating voltage: 240 Vac others available on request
Maximum area load: 0.2 W/cm² – Typical: 6 W/dm²