Temperature measurement with sheathed thermocouples
The measurement of temperature is a very important element in many areas of research and industry. Using
thermocouples
is a well-known and proven method in temperature measurement. Accurate and fast measurements, easy fitting, simple utilisation and interchangeability as well as low-cost production are the reasons for the widespread use of the
thermocouples
. They are resistant to heat and pressure and relatively insensitive to parasites. Specific technical requirements like within nuclear reactors, in space- research or in medical fields led to the development of sheathed thermocouples that are small in size with high insulation resistance and high resistance to corrosive media. All this is being fulfilled by miniature sheated
thermocouples
.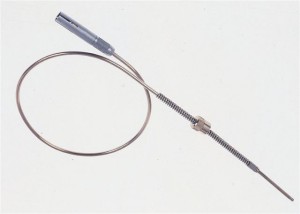 Construction of the THERMOCOAX thermocouple
THERMOCOAX manufactures a wide range of
thermocouples
with many advantages in a large number of applications. Most of the THERMOCOAX
thermcouples
 manufactured are a combination of conductors, insulation and metal protective sheath. Thanks to the highly compact insulating powder and the excellent metallographic state of the conductors and the sheath, the THERMOCOAX
thermocouples
are very flexible and may be bent to a radius equal to three times the outer diameter without causing any damage. With certain precautions, this can even be reduced.
THERMOCOAX Mineral Insulated Thermocouples
An important criteria for the quality of sheated thermocouples is the insulation resistance. Due to the small size of M.I thermocouples, very little space remains for the insulating conductor between conductor and between conductors and sheath.