Thermocoax announces a new thermocouple generation :
24 000 operation hours in heavy duty gas turbine
Exceptional resistance to vibration, thermal stress, corrosion…
Already demonstrated in air-cooled 446MWatt machine
37 gas turbine  already equipped
18 currently under operation
1.2 Million hours cumulated
699 starts

Technical application of long-life thermocouples
The gas turbine frames market is a challenging business. On the one hand, the frames are more and more high-tech and expensive and on the other hand, the energy producer is driven by low electricity production prices. To make them both compatible, gas turbine frames have to be reliable to minimize operation disruption and to offer longer periods without maintenance. Therefore, providing thermocouples with an increased lifespan decreases the downtime of the turbine, thereby significantly reducing the maintenance costs.
Required Benefits
One of the key aims of the OEM GT is to find high-accuracy thermocouples on the market that are able to perform in harsh environments and work for 24,000 operating hours without failing.
Thermocouples installed in exhaust gas lines are exposed to corrosion, vibration, thermal expansion and much more.
Thermocoax's Solution: Design a thermocouple that is out of the excitation bandwidth
Based on the capitalized cumulative return of experience in several fields, such as aeronautical, nuclear and oil & gas, THERMOCOAX has developed a vibration absorber that is secured to the thermocouple to avoid premature breaking when the thermocouple is subject to vibrations and thermal expansion. This solution is protected by a patent.

The invention with the patent number 63638FR/CZ/BB – 17 58061 is a vibration absorber that is secured to the thermocouple cable and is made to fit inside the screen/thermowell.
The number and size of the absorbers depend on the gas turbine specification in terms of vibration, acceleration and thermal cycles.
To demonstrate the advantage of this new design and its ability to reach 24,000 operating hours, THERMOCOAX has undertaken simulation and experimental testing:
1.1 Simulation: Comparison between a thermocouple with and without a vibration absorber
Input data:
Ø ≈ 3mm Type K thermocouple with 316L SS sheath
Length ≈ 500mm insertion length in SS316L thermowell
Temperature 870°C
Frequency range: 0 to 250Hz, mean value 100Hz
| | | |
| --- | --- | --- |
| | Long-Life TC | Standard TC |
| Resonant Frequency of the TC | 174Hz | 68 Hz |
| Stress produced by the Resonant Frequency of the TC | 11.1MPa | 450MPa |
| Number of cycles made before Breaking of TC at its Resonant Frequency | 9×109 | 40 |
| Life-span at the Resonant Frequency of the TC | 2.1×109 days | 10 days |
1.2) Field test results: Comparison between a thermocouple with and without a vibration absorber
Ø ≈ 3mm Type K thermocouple with 316L SS sheath
Length ≈ 300mm insertion length in SS316L thermowell
Temperature 900°C
Frequency range: 0 to 1000Hz,
Long-Life TC
Standard TC
Resonant Frequency of the TC
68Hz
174Hz
Life-span during the Endurance Test
Still works after

20,000h

Stops working before 3000h
The test is still ongoing. We can already say that the field results demonstrate the extraordinary positive impact on the reliability of the gas turbine. This new long-life thermocouple lasts 7 times as long as a standard thermocouple.
For the powerplant operator, the cost saving is at least 150,000 euros in thermocouples for every 20,000 hours of operation because there are no costs incurred from the frame shutting for unexpected maintenance.
THERMOCOAX Pedigree
For 60 years THERMOCOAX has been a worldwide key player in designing, developing and manufacturing thermocouple temperature sensors for industrial and aircraft gas engines.
With our custom-made Mineral Insulated Cable, we are providing our customers with solutions for:
Development applications:

R&D programs with institutes
Ground, aero & industrial test equipment

Production models:

Thermocouples in harsh environments with an installed base of over 300,000 thermocouples:

Heavy duty gas turbine
Stroke engine
Steam turbine

Thermocouples for helicopter engines with 15,000 units installed

Thermocouple characteristics:
Thermocouples are produced with Class 1 custom-made cables with a diameter from 0.25mm up to 6mm.
Single (2 wires) or duplex design (4 wires)
Types K and N are the most used in the industry.
Thermocoax recommends type N thermocouples for a working temperature of between 600°C and 1100°C, which offer a smaller drift compared to type K.
We have several sheath alloys available:
Stainless Steel
Inconel
Haynes
Platinum
Tantalum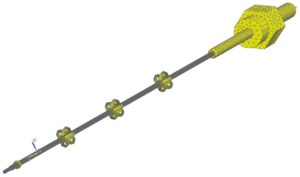 THERMOCOAX Calibration Lab
100% of the mineral insulated cable and finished thermocouples are controlled in the calibration lab.
Fixed points
TEMPERATURE -Thermocouple
Calibration purpose
Mesurand
Measurement range
Best calibration uncertainty
Measurement principle/Method reference (*)
Calibration tools (reference, Equipement)
Activities in Lab and/or on site
Thermoelectric couple
Temperature                                                                              Electromotive Force Signal Voltage
Melting ice point 0,00°C
±0,3°C
Method by comparaison at a fixed point / PP200D010 Rev06
Water triple, Sn, Pb, Zn cells Platinum resistance thermometer multimeter                                                  Melting ice point
Lab
Water Triple point 0,01°C
±0,3°C
Sn Melting point 231,928°C
±0,5°C
Pb melting point 327,46°C
±0,5°C
Zn melting point 419,46°C
±0,5°C
Sb freezing point 630,62°C
±0,9°C
Sb Cells                                              Thermoelectric couple S Type Multimeter                                              Melting ice point
By comparison
TEMPERATURE -Thermocouple
Calibration purpose
Mesurand
Measurement range
Best calibration uncertainty
Measurement principle/Method reference (*)
Calibration tools (reference, Equipement)
Activities in Lab and/or on site
Thermoelectric couple
Temperature                                                                                                                                                                        Electromotive Force Signal Voltage
-40°C to 0°C
±0,4°C
Method by comparison / PP200D022 rev 08
Ethylene/Glycol constant temperature bath                           Platinum resistance thermometer Multimeter                                     Melting ice point
Lab
0°C to 80°C
±0,3°C
50°C to 200°C
±0,4°C
Oil Constant temperature bath Platinum resistance thermometer Multimeter                                                 Melting ice point
150°C to 400°C
±0,5°C
Bath of melted salts Platinum resistance thermometer multimeter
400°C to 500°C
±0,6°C
500°C to 700°C
±1,3°C
Tubular furnace                                    S type thermoelectric couple Multimeter                                             Melting ice point
700°C to 1100°C
±1,4°C
1100°C to 1200°C
±1,6°C
1200°C to 1300°C
±2,1°C
1300°C to 1500°C
±2,4°C