TECHNICAL DESCRIPTION
The THERMOCOAX Bleed Air detector is designed to detect leaks in an aircraft's pneumatic duct system by sensing the temperature of the overheated air surrounding the leaking duct.
The NEGACOAX technology gives the location of the overheat condition, annunciates the overheat to the aircraft's crew warning system.
The NEGACOAX consists in a homemade Mineral Insulated Cable, doped with eutectic salts. When the NEGACOAX detects an overheat (air leakage) the cable Impedance value will drop down and the capacitance value will increase very fast.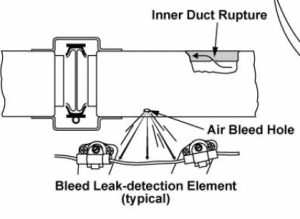 Example of curve with NEGACOAX NG124 :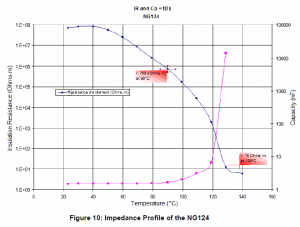 The THERMOCOAX's current technology uses the Binary compound within Eutectic as described below, in others words, liquidus and solidus will melt entirely at the same temperature.
This specificity gives the high accuracy of this technology :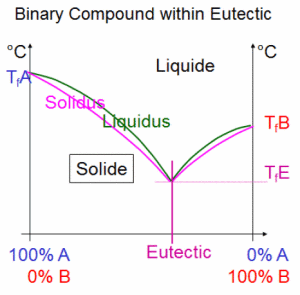 Insulated Cable homemade manufacturing, this technology offers a high reliability and nearly no maintenance.
The maximum length of each NEGACOAX detector is 5 meters. We have no length limitation regarding the number of detector connected together to make a complete loop.
THERMOCOAX's NEGACOAX detectors are typically installed at heat critical points throughout the aircraft structure. Typically, these are located in the wings, engine pylon, fuselage, empennage and tail cone (APU compartment).
This technology can be applied to military, commercial transport and general aviation aircraft.
The electronic control system associated will get 2 separated electrical parameters :


By connecting both ends of the NEGACOAX loop with the electronic system, the leakage location can be determined by current ratio.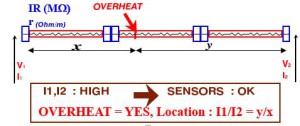 NEGACOAX Detector Characteristics
Nickel Sheath
Insulant: Al2O3 + eutectic salts
Constantan conductor
Line resistance at 20°C: 2,15±0,05Ω/m
Diameter Ø2,2mm +0,2/-0,4
Length L<300cm ±6mm
Length 300cm<L<460cm +19/-0
Max detector Length 460cm
Mass=25gr+(27*L)gr with L= length in meter
Service Life: 20 years
MIL and RTDO 160 standard
100 000 Flight hours
MTBF > 300*106 hours
FMEA 1.954*10-7 Failures/FH


NEGACOAX Product Ranges :
NG124
NG154
NG180
NG204
NG215
NG232
Thermocoax has a large experience on aircraft platform with :
McDonnel Douglas MD90
Airbus A340
Dassault Falcon F5X
Embraer KC390
Bombardier Global Express
Airbus Helicopter
Accessories
Thermocoax supplies a large range of accessories to fix the detectors on the aircraft structures
Mechanical System for :
1 or 2 loops :
Electronic System
NEGACOAX is compatible with any electronic system with the following characteristic :

Thermocoax is working in partnership with aircraft industry electronic specialist.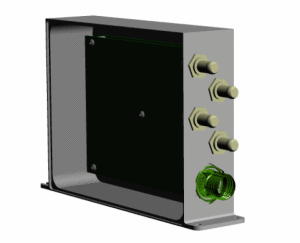 Test Loop
Thermocoax offers as option an upgrade of the detector with integrated shunt resistor in the connector. This shunt (>30KΩ) is connected between the core and the sheath.
Installation