THERMOCOAX is serving the civil nuclear Chinese market for more than 20 years as an authorized exporter for safety related components for nuclear power plant.
We are proud to announce that our HAF 604 certification has been extended by the National Nuclear Safety Administration (NNSA) of People's Republic of China) till 2022.
This certification initially issued in 2011 has been extended to additional product categories so that THERMOCOAX can now cover a wide range of I&C solutions in term of design and manufacturing of safety related CABLING and SENSORS for InCore and ExCore application.
THERMOCOAX will strengthen its position by providing more cabling for new reactor type like HUALONG, EPR or upgrade solutions for Gen 2 Nuclear Power plant.
作为核电站安全相关部件的授权出口商,THERMOCOAX在中国民用核市场服务了20多年。我们自豪地宣布,我们的HAF604认证已由中华人民共和国国家核安全局(NNSA)延长至2022年。2011年发布的这一认证已扩展到其他产品类别, Thermocoax现在可以在设计和制造用于堆芯和堆芯应用的安全相关电缆和传感器方面涵盖广泛的I&C解决方案。
Thermocoax将通过为华龙、EPR等新型反应堆或2代核电站升级解决方案提供更多电缆来巩固其地位。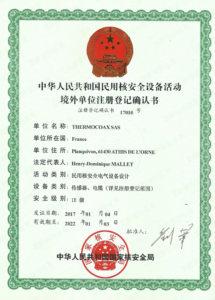 Copy of the HAF 604 certification