THERMOCOAX H2O2 oven :
THERMOCOAX offers you the possibility of manufacturing your custom designed aseptisation oven that will fit perfectly to your industrial tools.
Our specific solution is widely used by major machine manufacturers for the "dry" sterilisation processes.
We ask our customers to define their specifications in terms of liquid to be used, liquid flow and temperature in order to have the sufficient level of sanitization in their parts before the filling process.
As an expert of electrical heating solutions, Thermocoax will determine the power density of the heating elements necessary to reach your specifications inside the vaporizer.
THERMOCOAX exports its know how all around the word.
We also offer standard version one or two heating zones H2O2 ovens.
Technical characteristics :
H2O2 vaporizer
Material: stainless steel 1.4404, 1.4541
Heater: Based on Thermocoax mineral insulated cables – vacuum brazed – water tide IP 54 standard
Operational power and voltage:

one or two heating zones in standard
3 kW, 6 kW / 230 V
6 kW / 400 V
Customized specifications on request

Temperature range: up to 500°C or higher on request
Operating conditions: corrosive media, acids and chemicals
Reduced response time
Heating elements : cold end heating element with safety thermocouples for each zone.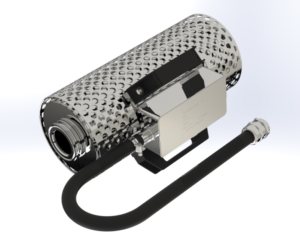 H2O2 vaporizer