WNE will be coming up mid 2020. We are actively preparing our stand booth to warmely welcome you. While waiting for this great event, let's share with you our paper on ISO 19443 and Skills & Knowledge Management. We had the pleasure to be part of the nominees' list for the 2018 WNE award.
In an effort to be ready at the time of the implementation of this new standard, THERMOCOAX puts the emphasis overs the last three years on Skills & Knowledge Management.
How do we put it in practice? Hereafter a brief description of the organization we put in place.
COMEX commitment: On the supervision of the CEO, Mr Patrice GUILLON – Quality director- and Mme Michèle CHAUMONT -HR director- are promoting Skills & Knowledge management in the Group Management Manual. Nuclear business unit is related to our French entity THERMOCOAX SAS only but this Skills & Knowledge Management is considered at a group level.
Click here
From the beginning (integration of news staff), recruiting process defines clearly what are the responsibilities and Authorities.

Project after project, THERMOCOAX has developed proprietary solutions mainly based on our MI cable technology. To make them available to the engineering staff, Manufacturing skills are identified and listed. Mentoring of the engineering department new comers associated with training "on the field" in all workshop allows a comprehension of technics and their implementation difficulties and limits. An expert senior engineer is made available to ensure a smooth implementation of existing Manufacturing skills and their implementation in new designs.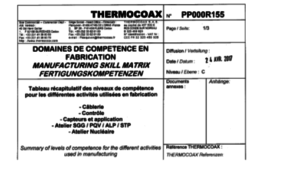 Each COMEX member proposes through a yearly assessment and a CEO approval trainings to managers who in return are doing the same with their N-1.

On a yearly basis and based on specialized questionnaires on individual competencies so that competencies matrix can be updated and training plan defined accordingly. On an individual level, very specific skills and knowledge but also processes are followed individually through internal tolls developed on ACCESS & Excel.
In order to capitalise and materialize THERMOCOAX key Know How, the technical director is in charge of the definition of the core competencies of THERMOCOAX. This document has been initiated at the time of a very specific project where THERMOCOAX took a significant role in the development of a Post Fukushima sensor along with CEA / AREVA/ IRSN ( "Investissement d'avenir " supported by French Government).
At a technician and operator levels, procedure are made to be directly understood; a picture being far more comprehensible than a long description. Both cumulated they facilitate operators comprehensions.

Under the responsibility of the technical director, it is the duty of the R&D department to anticipate on future requirement in term of Know Why and – through partnership with universities, research institutes (For instance: CNRT for advance material dielectric behaviour, SCK-CEN for In Core simulation related to Neutron sensors) to launch survey on fundamental knowledge on specific topics declared to be strategic and turn them into new technologies.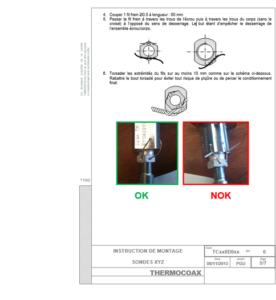 As a recognition of our expertise based on specialized technological components, THERMOCOAX has been entrusted of several Transfer Of Technology (TOT) by reputable companies like AREVA or GE.
 The nuclear safety culture is a fundamental part of our training cycle. All the actions launched by the Management demonstrate a firm commitment in this culture so that every individual understands its total responsibility in the nuclear safety.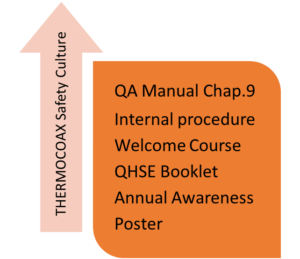 Competitiveness On the basis of our identification of the knowledge and skills of our staff, we have in hand powerful tools to meet the most demanding requirements of our customers. Our methods of qualification of personnel directly related to the matrices of competences demonstrated their efficiency and their completeness. They are a means of effective differentiation for the selection of our company through the demonstration of our mastery of our know-how.