This Cast Aluminum Chuck is produced for semiconductor layer deposition in the CVD/PVD/ALD processes.
This design is a 100% customized solution allowing a large range of heating chucks from 100 mm to 450 mm in diameter. It  may be equipped with RF thermocouples able to withstand high radio frequencies (example: 13.56 MHz) and avoid perturbative noise during temperature measurement.
Technical features :
Cast Aluminum Chuck design for optimal thermal uniformity and an improved inner thermal exchange compared to a machined version. Down to -/+ 0.5% according to the temperature set point.
Based on the THERMOCOAX Mineral Insulated cable technology, the Cast Aluminum Chuck has a heating wire design using the hot/cold transition in the same diameter inserted inside the chuck.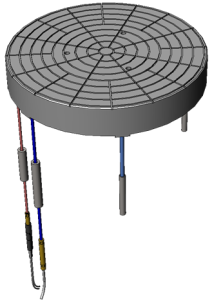 Chuck                                                                         Heating element with Hot / cold junction
Working temperature range : 50°C to 450°C
Flatness : down to 0.01 mm
Voltage : up to 240 Volts
The THERMOCOAX Cast Aluminum Chuck  can be equipped with lift pin holes and have an integrated cooling tube for air or water circulation and can be heated according to 1 or 2 heating zones.
This customized solution provides strong flexibility in terms of diameter, thickness and power supply.
The Cast Aluminum Chuck is an extremely reliable design with a high cost efficiency.
THERMOCOAX and heating solutions for Semiconductor industry :
Machined Aluminum Chuck
Stainless steel Chuck
Nickel Chuck
Various heating plates