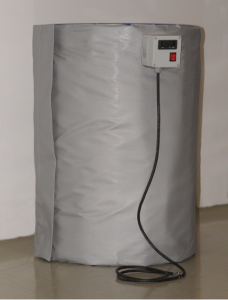 Flexible Isopad Heating Jackets of Series IDR-G are easy to install around drums to warm up their content. They are insulated to provide the most efficient heat transfer. Therefore the heat is distributed towards the medium inside with less energy loss than most simple heating bands. In addition an optional flexible insulated cover from Isopad may be used for the top of the drum.
Rapid and direct heat-up times are generated through constant power output and digital control. Through the pre-installed controller unit on the jacket and the single power supply lead the heating jackets are a practical, flexible and space saving solution. The drum heating jackets are providing upmost efficiency at various application methods from frost protection to desired regulation of the viscosity of the medium.
Drum heating jackets are designed for use in ordinary areas (non-hazardous). The outer sheath is made of glass-fiber reinforced silicone which remains flexible yet sturdy. By using the right manufacturing method the design provides protection in wet areas of use (Ingress Protection up to IP65).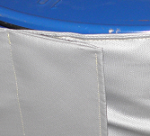 The heating jackets are installed using the Velcro tape which is mounted over the complete closure line. This method provides fast and easy installation with an optimum of fixation around the drum.
The materials used for the flexible drum heating jackets are suitable for operating temperatures up to 180°C. This operating range may be used for metal drums with suitable surface finish or paint. For drums made of plastic or composite we recommend a maximum operating temperature of 70°C depending on the material. For applications with lower performance ratings the power output may be reduced to save energy consumption.
The built-on controller unit junction box of the drum heating jackets is designed to provide direct adjustments of the control temperature as well as locking against use or change of settings.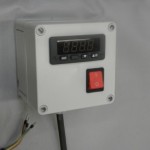 The housing is made of rigid plastic which provides protection against splashing water. After selection of the control temperature and other parameters the heating jacket can be operated using the ON and OFF main switch.
The heating jackets for drum are design mainly for use in industrial areas and shall therefore only be installed and operated by well trained staff and personnel.
Overview Product Features:
Fully insulated heating for best efficiency
Easy to use digital controller unit
Constant power output for rapid heat up times
For use on metal and plastic drums
Grounded heating element fulfills requirements to guideline 2006/95/EG
Regulation of viscosity
Frost protection
Maintaing temperature
Melting of solids
Warming up of Media
Thermal Mixing
Overview Technical Data:
Standard Sizes to fit drums of 200L volumes
Glass-fiber reinforced silicone outer sheath
25 mm thermal insulation
Digital Controller with acoustic/optical alarm
Dielectric strength >2000 Volts
Flexible Power Supply Lead 1.8 m
Ingress Protection Level IP65
Electrical Protection Class I
Optional insulated cover for top