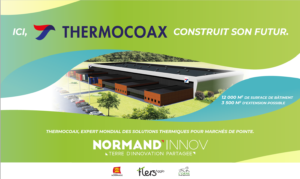 June the 27th was a landmark day for Thermocoax, a global expert in thermal solutions for the advanced markets.
After the acquisition by the Spirax-Sarco Engineering plc group on May the 13th, 2019, the Normandy plant staff was honored by the visit of the Group's General Manager, Mr. Nicholas Anderson, on the Normand'Innov site for a presentation of the group and its ambitions for Thermocoax, followed by discussions and questions/answers with the teams.
It is on this site, located in Caligny, that will be built the new Thermocoax plant, called "Project One".
On an area of 12 000m², this building will gather the 4 existing plants to date at Athis Val de Rouvre and Saint-Georges des Groseillers, offering additional floor space. Moreover with 3,500m² dedicated to potential expansion, Thermocoax will be able to fully meet the needs of its growing number of customers in the nuclear, semiconductors and aeronautics sectors.
The afternoon of June 27th, 2019, gathered around Mr Nick Anderson and Mr Dominique Mallet, all the local and regional partners who actively participate in the success of the project.
During an institutional event on the Normand'Innov site, a letter of intent was signed between the Region, the Department, Flers Agglo, Shéma and Thermocoax.
A festive starting point after long meetings and before the rise of a brand new factory for Thermocoax in Normandy.