THERMOCOAX is involved in the worldwide SEMICON market with High-end heating solutions based on Mineral Insulated cable technology.
We work on many levels of the wafer manufacturing process such as lithography, deposition, etching, ion implantation, or annealing.
With the evolution of the technology of 3D transistors, we focused our development on the ALD deposition process.
We meet the requirements of the SEMICON market in term of repeatability, temperature uniformity, control in production, quality monitoring, and COPY EXACT High volume manufacturing.
Due to our 60 years of experiences in high tech projects,  our engineering capability, our production tools, our control processes, our quality procedures and our adaptability are fully in line with the requirements of our SEMICON OEM customers.
We have decided to present in this paper our development on heating chucks for ALD processes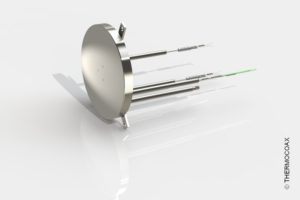 We have developed heating chucks dedicated to the SEMICON ALD, offering a high thermal uniformity on all the surface of the chuck, a great flatness and high dimensional stability, with no brazing presence outside the chamber.
We first focused our studies on the temperature uniformity over the entire surface of the chuck at High-temperature.
We started with the prototyping phases with our OEM customers.
Each ALD process has his own specifications. So, in order to better meet the needs of our customers, we set up a team of engineers dedicated to the SEMICON market.
We have acquired in-house testing tools, and we developed our own test systems.
Up to date, we have developed chucks with up to 7 separate heating zones.
A thermocouple type K, N or J well positioned makes it possible to control the temperature of each heating zone independently.
We manage to develop multizone heating chucks with High-temperature uniformity responding to the SEMICON ALD specifications :
Complex thermal FEA – 3D THERMAL MODELING – 1.6°C surface homogeneity
The flatness of the heating chuck is also one of the most important parameters in the ALD specifications.
We work on chucks with diameters up to 450mm (18 ").
We design, machine the chucks in-house, and control the dimensions with high-performance tridimensional CMM control facilities.
Those metal chucks can be of stainless steel, Inconel or special Alloy offering high dimensional stability.
FLATNESS: 0.05mm OR LOWER ON WAFER POCKET
Critical dimensional tolerances
 We adapt the feedthrough by offering custom bushings and flanges.
 Our heating chucks are designed to be used in an ultra-high vacuum environment.
THERMOCOAX has developed specific High-temperature ceramic / metal connectors compatible with high vacuum.
Because of the cleaning operation necessary for an ALD process, we developed metal chucks with a specific alloy that can resist the aggressive cleaning gas withstanding.
We also offer optional:
Cooling channel
Gas line
Vacuum wafer sucking
Anti-slice grooving
FROM PROTOTYPING TO HIGH VOLUME MANUFACTURING
 To ensure the quality requirements of the SEMICON market, THERMOCOAX built a new factory in France fully dedicated to the SEMICON market with a dedicated R&D & manufacturing team.
We manufacture series according to the COPY EXACT specifications of our customers.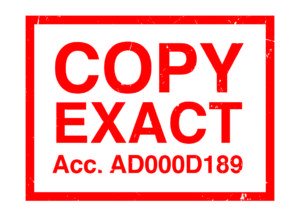 Our manufacturing process is fully controlled :
– Traceability,
– Subcontractor assessment,
– Internal & External audits
– Regulatory compliance
We set up an organization in project mode to manage large production programs for a permanent improvement of our performances.
Our industrializing performance is controlled by scores :
Failure mode and effects analysis (FMEA)
Statistical Process Control (SPC)
Process Flow
R&R calculation method
For High Volume Manufacturing, THERMOCOAX works with the strategy  of permanent improvement in terms of :
Design
Manufacturing process
Cost reduction
  THERMOCOAX offers high adaptability to customers specific requests.
THERMOCOAX has a full scaled presence in the US and serves ASIA directly.