Most media stored in drums before processing can begin will require heating to reduce viscosity and to enable easy removal of the liquid or semi-liquid from the drum. Other media stored in drums require temperature maintenance for a period of time to keep the media in its liquid or semi-liquid form.
All of our drum heaters are available for hazardous and nonhazardous locations, can heat metal or plastic drums, and will heat up to 300°C.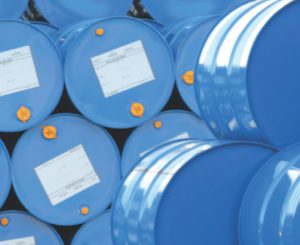 High efficiency
The drum heater is designed to be energy-efficient through its ideal combination of power, thermal insulation and temperature control.
Temperature control of the drum contents allows easy heating of liquid to your desired temperature, easing removal and optimizing usage of the liquefied product.
Our drum heaters provide a clean and compact way of attaining uniform surface heating of drums.

Safe, easy handling
With a unique "clam shell" design and castors, our drum heaters can simply be wheeled up to, and closed around, the drum. The clam shell design also allows the heater to be stored open, against a wall, taking up less space.
Castors are antistatic and have parking brakes to stop heaters from moving while in use.
State-of-the-art technology for hazardous locations
We currently offer IECEx and ATEX certifications to the latest European market standards. Drum and drum-base heaters for hazardous areas are equipped with a self-regulating heating system that does not require a separate temperature limiter for compliance with the temperature class.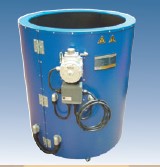 Electrical supply options
Our nonhazardous drum heaters are available for single-phase and three-phase operation (230 V / 400 V).
Drum heaters for hazardous locations are available for single-phase only.
Solid construction
All drum heaters are made of heavy gauge sheet steel with a double skin construction, which houses the electric heating elements, which cover the whole of the inner surface. The heating elements are equipped with reinforced thermal insulation to prevent heat loss through the outer wall.