Introduction
Standard practices in industry heat the moulds using gas burners, infrared panels or ovens. However, it is difficult to accurately control the temperature of the mould with indirect heating processes.
Electric mould heating solutions already exist with heating cartridges  but power delivered is much lower ; therefore the temperature is less homogeneous than the Thermocoax  heating solution.
Mould heating solutions are requested in many industries : metallurgy, glass, thermoplastic.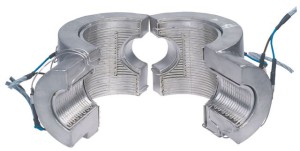 The Challenge : offer a mould heating solution with Thermocoax mineral insulated cables
Several heating zones
Reaching high temperatures quickly enough.
Optimize the heat transfer on steel moulds, stainless steel or cast iron by optimization of :

the cable design and the cable repartition on the support
the specific fixation solutions developed by Thermocoax to fix the cables depending on the application and the mould material
Our ability to integrate elements on rotary systems.
The benefits of Thermocoax MI cable heating solution
Process adapted to metals, glass and thermoplastic industries
Ability to follow complex 2D & 3D forms
High temperature homogeneity
Low electrical consumption
Fast temperature ramp-up
Electrical insulation and low leakage current
Low maintenance required
Main heating parameters for THERMOCOAX MI cable heating solutions :
Homogeneity
Due to their specific design, the Thermocoax Mineral Insulated Cables have the advantage of generating uniform temperature.
The homogeneous distribution of heat over the entire mould is guaranteed by the design and cable fixing solution.
The design and fastening of cables is specific to each application and depend on the support materials.
Implementation of the Thermocoax heating solution :

The heating elements can be directly brazed to the mould to favour heat exchange and temperature increase.
This fastening system also makes it possible to meet the demands of moving moulds for applications of roto-moulding for example.
Halve shells and heating plates can be designed to be removable.
Temperature control is carried out by thermocouples and a specific electrical control system provided by THERMOCAX.
Several thermocouples can be installed in different places of the mould to measure its thermal profile in real-time.
Adaptability of the Thermocoax heating solution to specific designs :
The mechanical properties and the small bending radius of Thermocoax mineral insulated cables make it possible to cover any type of complex geometry with different heating zones.
Each zone can be controlled independently.
 Conclusion
Thermocoax developed an innovative mould heating solution.
This solution can be adopted on rotary systems.
The heating elements and thermocouples are welded directly onto the prints, they are an integral part of the mould.
The temperature can be controlled with extreme precision.
Thanks to appropriate positioning of the heating elements, the THERMOCOAX heating solution provides the homogeneous temperature that moulding industries require.
The Thermocoax heating solution makes it possible to reach temperatures of up to 700 °C, which are necessary to process various materials or to maintain the temperature of metals during the moulding process.
Thermocoax mould heating solution applications :
Shell foundry: Pressure or gravity foundry
Glass moulding: mould preheating, temperature control

Rotational-moulding of thermoplastics using a rotating Process
MI Cable welded onto the print     
We would be more than happy to present you our mould heating solutions – You can contact us through our website www.thermocoax.com or directly at : + 33 1 41 38 80 61